On August 7th, Mercer hosted their annual Healthcare Innovations Symposium in Minneapolis, with presentations from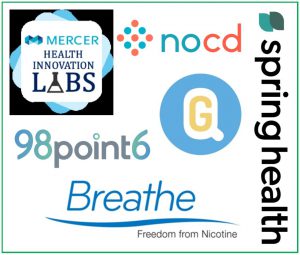 Thought Leaders in various facets of the healthcare world. They gathered to explore some of the newest technologies and services promising to have a major impact on the future of healthcare in the U.S. and worldwide.
The annual event is designed to ensure that Mercer account managers and their corporate clients are introduced to the most cutting-edge healthcare options for companies to consider offering their staff.
Businesses spend over a trillion dollars every year to support the health of roughly 62% of the U.S. population. Because of this, the most successful organizations are always looking to identify the most effective and more efficient methods of improving the health of their employees.
Attendees at the Minneapolis event included executives from many of the largest companies in the country.
The seminar covered a variety of health-related topics. This included presentations by five Thought Leaders – innovative and forward-thinking companies focused on helping people achieve healthier lives at an affordable cost.
Presenters invited to talk at this prestigious event included: 98point6, NoCD, Spring Health, Breathe-Freedom from Nicotine, and Quit Genius.
NoCD: A Chicago company that created an app designed to aid people in overcoming a variety of obsessive/compulsive behaviors that often hinder normal life for afflicted individuals. They have exercises to help manage active episodes of OCD attacks, as well as exercises to help minimize the frequency and severity of future OCD episodes. This can allow people to lead happier and more productive lives.
98point6: A Seattle based firm responsible for developing an app that lets people get high quality and affordable ($20-$120/year) medical advice from top doctors. Using advanced Artificial Intelligence technology, and drawing from both broad medical sources (JAMA, New England Journal, Clinical trials, etc.) and deep understanding of each subscriber, 98point6 can deliver better health care, quicker, and at dramatically lower costs. They can even write prescriptions!   We believe this company will probably completely change most healthcare delivery and payment systems in the US – and across the world – within just a few years.
Quit Genius: Founded in London, Quit Genius is a smartphone app with cognitive behavioral therapy exercises and information designed to help people address the habit portion of smoking addictions.
Spring Health: Founded out of New York City and Yale University, Spring Health is a smartphone app-based program that allows companies to give their employees access to significantly better mental health treatment. The app helps individuals identify the best provider for their needs and get faster issue resolutions, allowing them to improve their lives and work, while simultaneously saving the cost of unnecessary or ineffective treatments for their specific condition.
Breathe-Freedom from Nicotine: A proven tobacco/nicotine cessation program that uses lasers to decrease physical cravings and alleviate the pain and discomfort of nicotine withdrawal, while quickly and effectively addressing the psychological part of the addiction. Additionally, Breathe's laser therapy is proving to be a powerful tool for the growing number of people who want to stop vaping. NOTE: Breathe-Freedom from Nicotine was the only Minnesota company invited to present.
The annual Mercer sponsored event is designed to reshape the future of healthcare. Their goal is to allow companies an opportunity to learn about some of the newest and most effective programs and technologies, to improve the lives of their employees.
Mercer will also soon be co-hosting HLTH, the largest healthcare conference in the world.  The event will be in Las Vegas this October.
Mercer, a division of Marsh and McLennan, is a fortune 1000 company employing over 23,000 people worldwide and generating an annual revenue of over $4.3 billion.
Written by Phil Berbig and Rick Diamond