How Breathe Therapy Compares
The Breathe Therapy method to quit smoking with laser treatment is the most inexpensive and effective way to stop smoking. Breathe Therapy helps client stop chewing in just 1 week or less for under $500 while top competitors can take up to 24 weeks for results and cost significantly more than $500.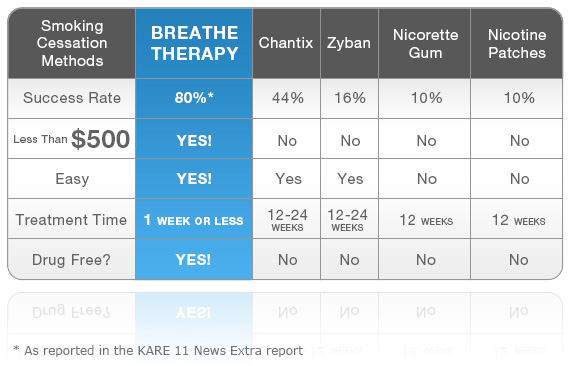 If your question isn't covered in the Breathe Therapy FAQ, please do not hesitate to Contact Us today so we can help you live your best tobacco free life! 
Breathe Therapy has helped over 10,000 quit tobacco with laser treatment!
Breathe Therapy is the leading company for laser treatment to quit tobacco. Breathe has helped over 10,000 clients, just like YOU, quit all forms of tobacco, including smoking & chewing. See how Breathe Therapy has changed their lives! And how it can change your life too!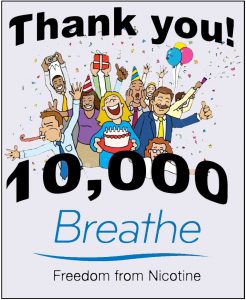 Are you ready to take the next step?
Click below to learn more or to set up your initial appointment. Breathe Therapy is here to help you start your tobacco free life through effective laser therapy.
Quit Smoking Study Information
All costs noted for the Nicotine Replacement Therapies compared, are based on 12-24 weeks of treatment supply of patches, pills or gums for a common patient.
All prices, success % and other information noted, as gathered through 1st and 2nd hand sources – June 2007. Costs and success rates of individual practitioners or clients may vary. Source information available upon request.